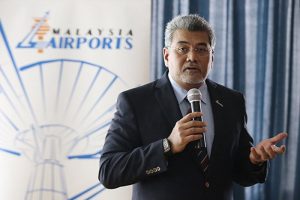 MAHB managing director Datuk Badlisham Ghazali said KIA's cashless airport offers multiple digital payment options, which goes in tandem with the company's digitalisation efforts. — Picture by Azinuddin GhazaliPETALING JAYA, April 2 —
Kuching International Airport (KIA) became the first cashless airport
in the country after an e-wallet app was introduced as part of the state's digitalisation effort in collaboration with telco company Digi Telecommunications Sdn Bhd today.
Sarawak Chief Minister Datuk Patinggi Abang Johari Tun Openg said he wanted Sarawak to become a fully developed state in Malaysia and was delighted that operator Malaysia Airports Holdings Bhd (MAHB) chose KIA to pilot its cashless airport initiative.
"We want to completely eliminate the urban and rural divide by 2030, however it will be impossible without the intervention of technology.
"Digital connectivity will be the means to achieve this and the success is dependent on the strong collaboration between the government and the private sector," he said while addressing the importance of the state's digitalisation efforts at KIA during the launch.
MAHB managing director Datuk Badlisham Ghazali said KIA's cashless airport offers multiple digital payment options, which goes in tandem with the company's digitalisation efforts.
"The organisation is undergoing a digital transformation with the use of big data analytics that would allow us to better anticipate foot traffic flows and reduce choke points at airports thus enabling a more passenger-friendly journey," he said.
KIA registered a total of 5.1 million passenger traffic movement last year, a 3.6 per cent growth compared to 2016 with retailers enjoying higher sales per passenger growth of 5.2 per cent.
Badlisham said MAHB was confident the latest digitalisation initiative will also drive the local economy by boosting sales for the local retailers at KIA, with at least 70 per cent of retailers already on board.
"We wish to embrace the concept by extending our existing collaboration with Alipay to provide cashless convenience to Chinese passengers with other mobile payment platforms to accommodate a larger passenger base at all our international airports," he said.
Digi's chief marketing officer, Loh Keh Jiat said Digi was passionate about delivering convenience enabled by digital connectivity to their users, and this partnership showcases the corporation's support towards the state government's goal to capitalise on digital technology.
"With the state government embracing financial technology, we believe e-wallet solution will be widely accepted by airport visitors in transforming the state's economy and move Sarawak towards a cashless society," he said.
The mobile payment application vcash features an enhanced layer of security in making payments, and can be downloaded for free from the Google Play Store or Apple App Store.
source : https://tinyurl.com/yd7q5j8l