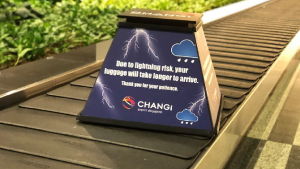 SINGAPORE: Travellers arriving at Changi Airport
during the year-end holiday period may experience delays in retrieving their luggage due to the monsoon season, said Changi Airport Group (CAG) on Monday (Dec 4).
It explained that heavy rain and lightning may force ground handlers to temporarily stop the retrieval of baggage from aircraft.
"This is for the safety of the baggage handling staff," said CAG.
"When there is lightning activity, there is also the possibility of a 'side flash', where dangerous static electric discharge occurs even when the workers are standing close to the aircraft and not in contact with any object," it added, noting that lightning alerts have also been issued when it is not raining.
Last month alone, bad weather led to baggage delays for 1.5 per cent of arrival flights.
Out of 14,971 flights, there were baggage delays for 225 flights, said CAG. That is almost triple the average of 78 cases per month from January to October this year.
According to the Meteorological Service last Thursday, wet and rainy weather is expected to continue in the first two weeks of December.
It added that with the onset of the northeast monsoon, two to four episodes of monsoon surges can be expected from December to January, bringing prolonged, widespread rainfall that can last between two and five days.
Under normal weather conditions, CAG aims to get passengers their luggage within 35 minutes after the aircraft parks. It said it has achieved this for more than nine in 10 passengers.
AFFECTED PASSENGERS CAN WAIT IN LOUNGES
In the case of baggage delays, CAG said it will activate messages on the monitor displays at the baggage claim belts and issue public announcements at regular intervals.
A sign or "lightning cubes" will also be placed on the relevant baggage claim belts. This is being tested at Terminal 3 and there are plans for it to be rolled out across all terminals, said CAG.
It added that affected passengers will be offered refreshments such as bottled water, canned coffee, packet Milo and biscuits while they wait for their bags. CAG has also turned some space in the Baggage Claim Hall of Terminals 2 and 3 into lounges where passengers can access WiFi  and power plugs.
In extreme cases where the delay is expected to be long, CAG noted that some airlines offer a complimentary home delivery option.
Given that Singapore has one of the highest occurrences of lightning activity in the world, CAG said it has measures in place to protect staff.
These include having ground handlers use of wireless headsets which help to remove the possibility of lightning-induced static discharge from the aircraft.
Since August, CAG has also made it compulsory for all aircraft to perform three-point aircraft grounding, to prevent the accumulation of electrical charge by dissipating them to the ground safely.
"The safety of airport workers is paramount to CAG. We seek passengers' understanding that we will do our best to present their bags for collection as soon as it is safe to do so, be it rain or shine," CAG added.
source : https://tinyurl.com/ya2qo6ap