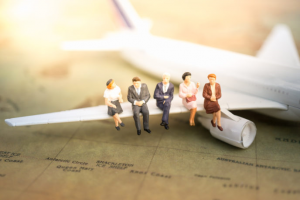 Personalization has been used with great success at companies such as Amazon, Netflix and Pandora. According to eMarketer, almost half of online retailers found that personalization increased revenue in excess of 10%. Unfortunately, customization is also an area where the airline industry has been both leading and lagging behind. A leader with the launch of innovative loyalty programs in the 1980s, but behind in the effective use of it beyond that.
So, how can modern targeting techniques help in the airline industry, beyond what loyalty and profiles have already delivered? Targeting can be used to capture what customers really want and tailor the offer based on their needs. The offer can be generated and optimized using revenue management techniques coupled with data from the different traveler groups or clusters.
The modern airline industry has been undergoing a fundamental shift in how it views its own product and how best to interact with its customers. Is the air travel product being sold to the customer as a single unified offering, or is it a catalog of pieces that the customer can pick from?
Carriers such as EasyJet, Ryanair, Frontier and AirAsia have perfected a model where the air travel experience is broken down into multiple products that are purchased separately. The success of this model has caused larger carriers to adopt this concept to their own air travel product in the form of separate purchases for on-board meals, baggage, priority boarding and many other services. However, breaking the air travel product into multiple pieces is a challenge to many existing airline systems, and has required the addition of new systems and processes.
Most airlines have approached the sale of these "ancillary" products through the deployment of merchandizing catalog systems, which sit apart from the traditional airline pricing and revenue management systems. Sales of ancillaries traditionally take place after the customer has selected a fare, with little coordination between the two.
With ancillary sales becoming a major part of airline revenue (and profitability) is this really the right approach? Revenue management systems should seek to integrate both bundled and forecasted future ancillary sales, with the base fare. Taking the complete customer purchase into consideration will optimize its full value.
Download a copy of our latest report, A spotlight on Total Offer Optimization: Fast forward to customer centric revenue management, for more.
source : https://tinyurl.com/yae7o3dg