Ismail Sebugwaawo /Abu Dhabi Filed on September 16, 2019 | Last updated on September 16, 2019 at 08.14 pm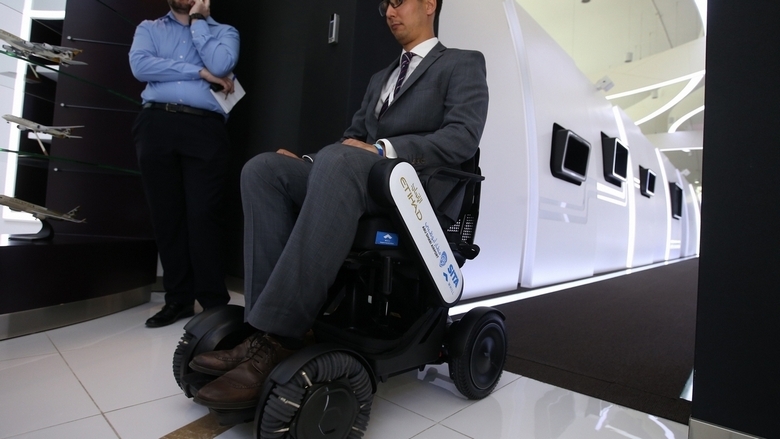 The wheelchair is the first for any airline and airport in the region.
A trial run of self-driving wheelchairs has been launched at the Abu Dhabi International Airport to allow passengers with restricted mobility move on their own.
The Abu Dhabi Airports partnered with Etihad Airways to introduce the wheelchairs at Terminal 3 ahead of its launch at the new Midfield Terminal.
Also see: Dubai Metro's Route 2020 trains take shape
The autonomous wheelchairs will allow passengers navigate easier through the airport without any assistance.
The trial, which will last until the end of the year, will involve intensive testing and mapping of the airport environment to facilitate autonomous movement. This will ensure that passengers can use the new technology, if introduced following the testing process. The wheelchairs will offer passengers up-to-date boarding times and gate information, an automatic brake function, and sensors to detect any obstacles in its path.

The wheelchair is the first for any airline and airport in the region. Passengers will still be able to opt for the traditional form of assistance through porters.
"The idea is to provide people of determination with self-control and the ability to guide themselves through the airport by using a joy stick. Alternatively, (they will) be able to select a gate on an iPad or an iPhone and the device will drive them there," Tristan Thomas, Etihad Airways' director for digital and innovation, told Khaleej Times on the sidelines of the launch of the project.
Over 200 passengers using wheelchairs pass through the airport daily and officials said these will be replaced by the autonomous ones in the coming months.
The final stage of the trial will involve passengers with restricted mobility self-driving the wheelchairs through the airport and navigating through the duty-free shops and lounges to their departure gate. On arrival at the gate, and once the guest has boarded the flight, the wheelchairs will have the capability to return themselves to the collection point without staff involvement.
The trial is a partnership between Etihad Airways and Abu Dhabi Airports in collaboration with personal electric vehicle supplier WHILL and information technology company SITA.
source : https://www.khaleejtimes.com/business/aviation/self-driving-wheelchairs-at-airport-in-uae