Incheon International Airport Corp.
has created a cooperate alliance with European airports in France and the Netherlands. It is the first time that airport companies have formed an alliance, although there are many alliances among global airlines.
The Incheon international airport announced on Tuesday that it will create the Leading Airport Alliance with Royal Schiphol Group of the Netherlands and the French Groupe ADP. The three airport companies have been sister airports since 2011 and strategic partners since 2014.
With the new Leading Airport Alliance, the three companies announced a set of innovation initiatives to speed up the transition to sophisticated and smart airports by responding to the fourth industrial revolution preemptively.
The alliance plans to share innovative information technologies with regard to airport operations in safety and security areas as well as best practices for adopting new technologies. They also agreed to standardize new technologies being introduced to the airports including robotics such as guiding robot, cleaning robot and Internet of Things. Applications of these technologies may include biometric boarding system and emergency response training using virtual and augmented reality (AR and VR).
Royal Schiphol Group operates four airports — Amsterdam Schiphol, Rotterdam Hague, Eindhoven and Lelystad in the Netherlands — and French Groupe ADP runs three airports including Paris-Charles de Gaulle, Paris-Orly and Paris-Le Bourget.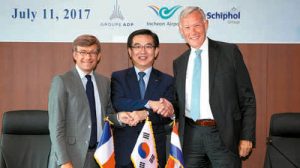 Im-Soo Jeong imsoo@donga.com
source : https://tinyurl.com/yckdpg45