Interesting reading this week as we reviewed an article written by Christopher Forrest, Vice President of Airport Systems for Rockwell Collins.
He shared what he thought were the top airport trends to look out for in 2018. We take a closer look.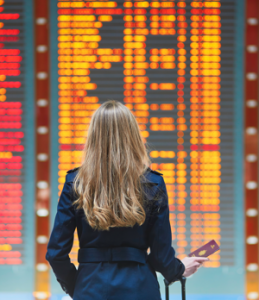 Trend One: Greater use of cloud infrastructure
According to Forrest, 2018 will see an increase in the broader adoption of cloud solutions. By this, he means the 'true cloud', such as the use of global cloud platforms like Microsoft Azure and Amazon Web Services and not just what has essentially been the use of hosted services up to now.
The scalability of cloud solutions supports passenger processing systems perfectly, enabling greater accessibility for smaller airports to implement faster processing speeds that are enjoyed by larger airports with dedicated infrastructure in place. With cloud applications, innovations such as off-site check-in and self-service kiosks are made attainable, and thus offering the opportunity to further increase passenger experience, in addition to making operational productivity seamless and flexible.
Trend Two: Automated self-baggage drop solutions
Interestingly, Forrest cites automated bag drop, and adoption of self-service baggage drop in particular, to be a firmly-growing trend this year. We have already seen a significant rise in self-service bag drop implementation for the last couple of years, but expansion of the adoption of self-baggage drop should continue to rise most notably, according to Forrest, in Asia and the Americas.
This is interesting because of the US' increased TSA requirements over identification checks, which has previously impacted adoption of these systems. Forrest believes that increased trials and uptake of biometrics will gradually replace traditional identification checks, which will in turn help to speed up wider adoption of automated self-baggage drop solutions.
Trend Three: Wider adoption of a self-service journey
We agree with Forrest that we are moving closer towards a complete self-service journey through the airport for passengers. Many trials have taken place in this area of passenger processing, and there has been great success for 'single point' self-service applications.
Forrest notes that biometrics will play an important part in the implementation of an end-to-end self-service experience, and believes it will be this year that the trials convert to implementation and operation.
Trend Four: The impact of IATA Resolution 753
The implementation deadline for IATA Resolution 753 is set for June 2018, and Forrest says that this will mean that airports and airlines will be making more investments in baggage management systems in order to comply.
IATA Resolution 753 has been put together to implement an improved solution to track passenger baggage. There are four main points at which baggage will be monitored and recorded, and airlines will have to know where the bag is in its network to comply with the new regulation.
We will be watching these trends very closely over the next twelve months, and look forward to the introduction and implementation of the latest products, systems and technology. Follow us as we report throughout the year.