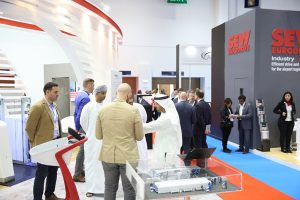 The 18th edition of Airport Show
concluded on Wednesday (May 9) with participants reporting signing of substantial deals worth millions and collaborations.
The largest annual event of its kind hosted over 350 exhibitors from 60 countries, with the largest number of dedicated pavilions ever, representing Europe, US and Asia, along with over 7,500 visitors. This year's event also saw its largest number of buyers ever, with 190 buyers attending from 34 countries, representing 75 airports, ground handling, police, immigration, customs, air traffic control and aviation authorities.
Since the inauguration of the show by Sheikh Ahmed bin Saeed Al Maktoum, president of Dubai Civil Aviation Authority, chairman of Dubai Airports and chairman and chief executive of Emirates Airline and Group, the world's largest annual B2B airport industry event saw the highest number of exhibitors, hosted buyers and participants.
Mohammed Ahli, director general of Dubai Civil Aviation Authority (DCAA) and CEO of Dubai Air Navigation Services (dans), remarked: "The quality of global participation and the increased number of exhibitors are testimony to Dubai's growing importance as a global hub for civil aviation industry."
The global appeal of the show was expanded by adding exclusive add-on forums like Global Airport Leaders' Forum (GALF), Women in Aviation (WIA), Air Traffic Control (ATC) Forum and Airport Security Middle East – the last two being this year's new additions.
Farid Al Bastaki, director, ENOC Aviation, said: "Initiatives like the 'Women in Aviation General Assembly' are great platforms to highlight the achievement of women in society. Investing in women is one of ENOC's top priorities which falls in line with supporting the UAE's vision to empower them in the workplace. Aviation is a key driver of a nation's socio-economic growth and we encourage all stakeholders in this sector to support women and engage with them. Aviation is a dynamic sector that requires qualified professionals and women need to be encouraged to take up jobs within this industry that underpins economic growth."
The Aviation Security Center (Avsec) of Dubai Police will host the 16th Directors' Meeting of the International Civil Aviation Organization (ICAO) in Dubai in 2019 during the 19th edition of the Airport Show in 2019, according to Eng Marwan Mohammad Singel, director, Dubai Civil Aviation Security Center, Dubai Police.
Major deals signed during the show include Dammam Airports Company (DACO) signing strategic agreements with Vanderlande and Serco Middle East.
Honeywell, a global leader in connected airports, launched a new smart software suite Honeywell Navitas that helps enhance the safety and efficiency of airside operations.
Sharjah International Airport has awarded Frequentis and its UAE partner Bayanat Engineering UAE a contract to modernize its voice communication infrastructure and replace the existing Schmid Telecom system.
Sameh Gaafar, director, Airport Security, Europe, Middle East & Africa, Rockwell Collins,  said the company is in discussion with Jazeerah Airways for their new requirement for a dedicated terminal.
"Our participation at the show was very rewarding as we could get good enquiries from key players in the market," he said.
Todd Donovan, vice president strategy, Air Traffic Management, Land & Air System, Thales Group, said: "The show has been great, it's a great forum being able to join together as key stakeholders in the region in order to very efficiently have many meetings with our current customers and prospective customers and be able to discuss what is materialising and happening in the industry today."
For the first time this year, the event saw the launch of the Innovation Awards, with winners selected from a global pool of submissions and industry jury. Dieter Heinz, president, German Airport Technology & Equipment, won the 'Aviation Personality' award for his contribution towards the development of the industry globally; the 'Revolutionary' award went to Beumer, for a ground-breaking product and service that transformed the industry; Hungaro Control got the Sustainability award, Materna received the award in 'Smart' category and Avventura was presented the 'Customer service' award.
Daniyal Qureshi, group exhibition director at Reed Exhibitions Middle East which organises the trend-setting trade show, said: "This year felt like a true industry showcase. The dedicated events for security and air traffic control complemented Airport Show perfectly and we are looking forward to offering further content aligned with industry trends in 2019."
Dubai Aviation Engineering Projects (DAEP), Dubai Airports, Dubai Civil Aviation Authority (DCAA) and dnata were the key supporters for Airport Show, while Dubai Police and Dubai Customs were supporting Airport Security Middle East and ATC Forum was supported by Dubai Air Navigation Services (dans) and GAL ANS, in addition to four other supporters. – TradeArabia News Service
source : Trade arabia