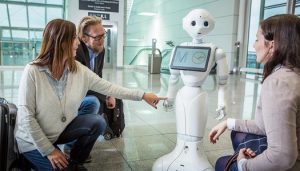 Munich Airport is testing a humanoid robot equipped with artificial intelligence (AI) in its Terminal 2.
The robot, named Josie Pepper, welcomed passengers in the non-public area of the terminal. For her first deployment, the robot speaks English and waits near the departure for the shuttle to the satellite building. Here, it welcomes passengers and answers their questions about shops, restaurants and air traffic.
The computer is connected to the Internet via WLAN so has access to a cloud in which spoken information is processed, interpreted and linked to the data of the airport. The type of robot does not speak finished text, but answers individually to a question through its ability to learn.
The 1.2m-tall robot was developed by the French company SoftBank Robotics and it powered by artificial intelligence and Watson Internet of Things technology from the IBM cloud. When the robot speaks, it lights up green around its eyes. Its hands and fingers are human-like, and it moves on rollers.
The pilot phase will analyze how Josie Pepper reacts with passengers and how they receive the robot.
Written by Kirstie Pickering
March 6, 2018
source : https://tinyurl.com/y7daj36t